Fridays on the Farm: Growing Hope with Gardens

By Jonathan Groveman, NRCS, California May 19, 2023            Photo by Jonathan Groveman, NRCS.
This Friday visit City Slicker Farms in Oakland, California. Since its beginning in 2001, City Slicker Farms has been a force for good. The farm is made up of a network of 500 mini farms, backyards, and food-growing sites across California's East Bay. As part of the rapidly growing world of urban agriculture, this farm is a haven for food justice and nourishment for an impoverished community. Since founded in 2001, City Slicker Farms has been a force for good in Oakland, California.
Feeding the Community
Close to a major freeway, you wouldn't imagine finding an active farm full of vegetables, orchards, and flowers. But it's exactly what can be found at the City Slicker West Oakland Farm Park location. Flanked by apartment buildings, commercial businesses, and tent encampments, the farm park boasts community garden beds for youth groups and neighbors, production plots for an ethnically diverse community, an educational complex, multiple chicken coops, bee boxes, flowering plants for pollinators, and a playground for kids.
Their gardens primarily serve Black, Indigenous, and People of Color (BIPOC), low income, or elderly communities that have barriers to fresh and healthy foods. By providing free food-producing gardens to these communities, they are directly improving food access and in turn, improving long term public health outcomes and quality of life.
City Slicker Farms has multiple chicken coops, bee boxes, and flowering plants for pollinators. Photo by Jonathan Groveman, NRCS.
"Our West Oakland farm park was co-created with our community members, with their needs in mind," said Aliya Benudiz of City Slicker Farms. "We strive to provide a safe, beautiful gathering space where folks can learn and play, as well as feel empowered to grow their own food in an area where fresh produce is scarce."
The People's Garden
Recently, City Slicker Farms took another step forward in their mission to improve the lives of their community by joining the USDA People's Garden network. People's Gardens empower communities to participate in local food production and provide diversity and resiliency to the food supply chain. They also teach about the benefits of sustainable, local agriculture and how gardening can foster community collaboration, provide green gathering spaces, and benefit the environment. City Slicker Farms received funding to become one of USDA's 17 flagship People's Garden locations.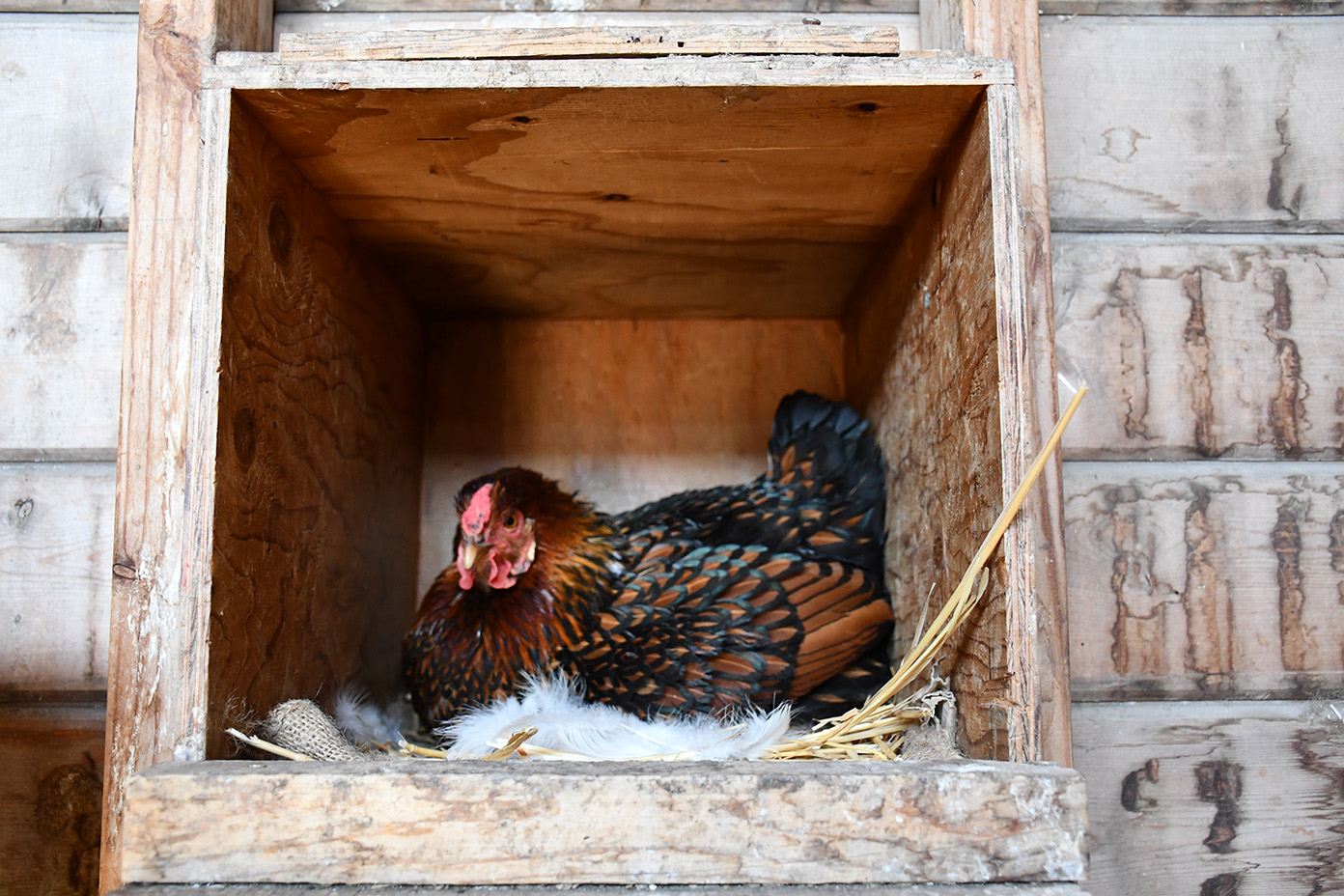 City Slicker Farms received funding to become one of USDA's 17 flagship People's Garden locations. Photo by Jonathan Groveman, NRCS.
"We are so grateful for the support of the USDA's Peoples Garden," said Aliya. "With their help, we will be able to make our community garden more wheelchair accessible so that all our community members can easily access their plots, increase the number of plots we have available to members, as well as update our map and signage at the park so folks can learn about our methods and infrastructure."
USDA's Natural Resources Conservation Service in California has developed a multi-year cooperative agreement to support the mission of City Slicker Farms. The agreement will provide financial support for their educational programs that highlight conservation practices, like water conservation and soil health, at City Slicker Farms. NRCS will also identify additional conservation partners to expand resources to the farm, such as the Xerces Society who can assist with pollinator plantings and invertebrate education.
NRCS Chief Terry Cosby took part in the People's Garden ribbon cutting ceremony at City Slicker Farms in September 2022. Photo by Jonathan Groveman, NRCS.
"Urban agriculture is such a critical part of food production in communities with limited access to fresh and affordable produce," said NRCS California State Conservationist Carlos Suarez. "USDA support for these operations, through the People's Garden initiative, provides a way for NRCS to demonstrate the importance and value of farms like City Slickers to their surrounding community."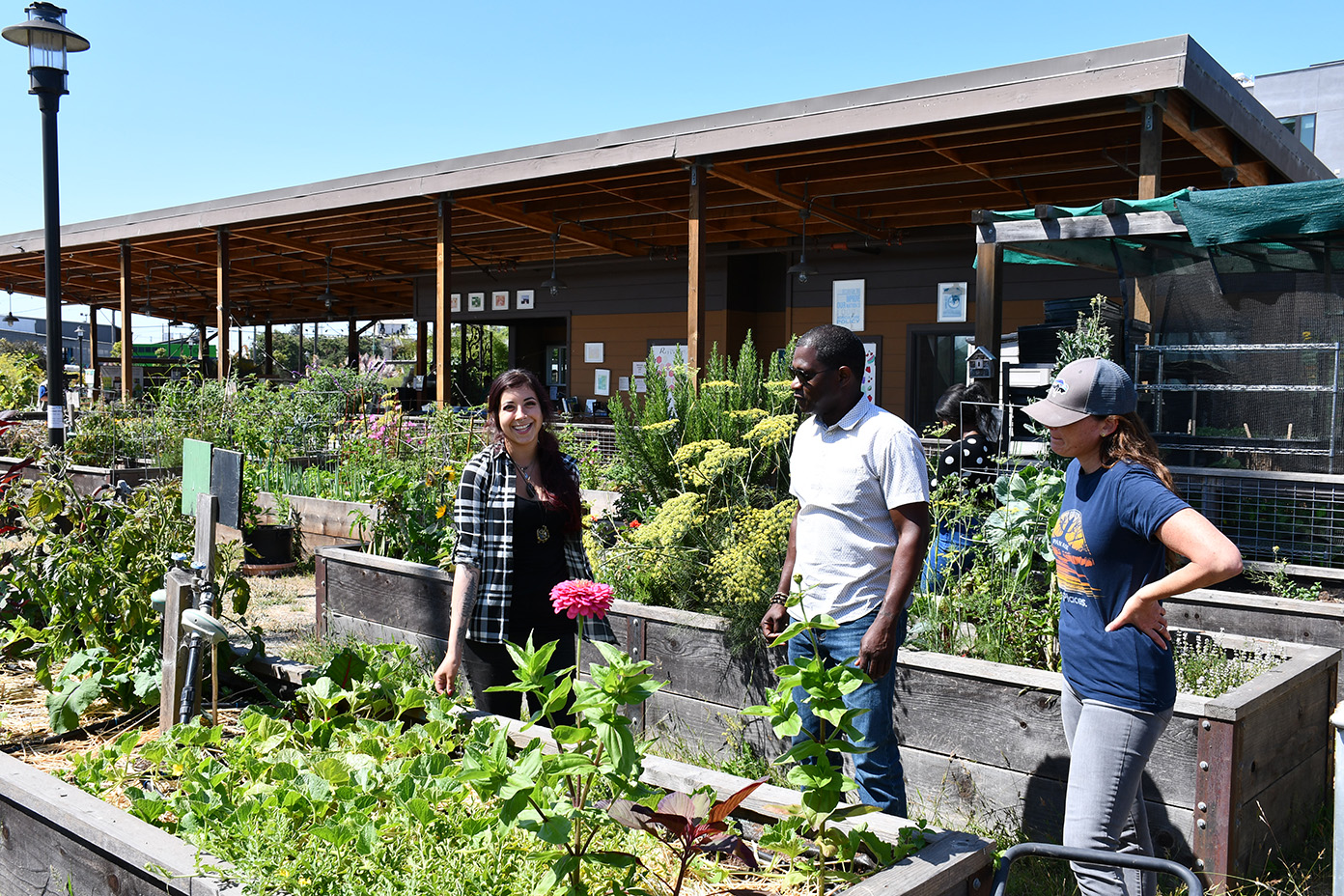 Visit local farms, ranches, forests, and resource areas through our Fridays on the Farm stories. Meet farmers, producers and landowners who are working to improve their operations with USDA programs.
More Information
Do you have a community farm or garden that you'd like to designate a People's Garden? Join us! Register as a People's Garden.
USDA's programs for urban producers help build infrastructure for urban agriculture. USDA's Office of Urban Agriculture and Innovative Production provides grants and cooperative agreements to nonprofits, local governments, and other entities, as well as sets up Farm Service Agency urban county committees to increase producer input in delivering programs. Learn more at farmers.gov/urban.
USDA offers a variety of risk management, disaster assistance, loan, and conservation programs to help producers weather ups and downs in the market and recover from natural disasters as well as invest in improvements to their operations. Learn about additional programs.
For more information about USDA programs and services, contact your local USDA service center.
Jonathan Groveman is a public affairs specialist for NRCS in California.