The UN Calls for a COVID-19 Global Ceasefire.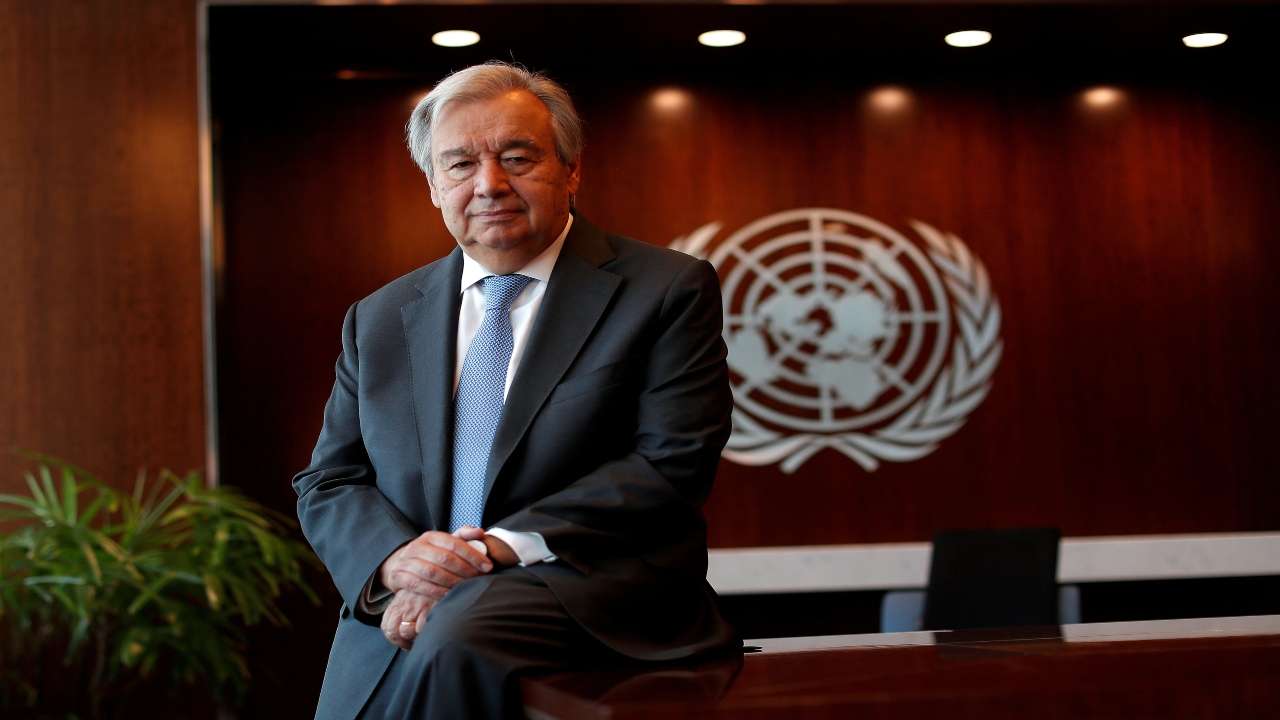 Joe Biden if you truly want to be the president of healing join the call for a global ceasefire to combat COVID-19 and have America take a leadership role in bringing it under control at home and abroad. "Silencing the guns can not only support the fight against COVID-19, but also create opportunities for life-saving aid, open windows for diplomacy and bring hope to people suffering in conflict zones who are particularly vulnerable to the pandemic."  UN Secretary General Antonio Guterres said in issuing his call for a ceasefire and adds "To silence the guns, we must raise the voices for peace." Joe raise your voice for peace and reconciliation and give people hope for a better future.
On March 23rd, Secretary-General Antonio Guterres issued an urgent appeal for a global ceasefire in all corners of the world to focus together on the true fight – defeating COVID-19. He repeated the call at the start of the 75th UN General Assembly session in September. He called for the global ceasefire to become a reality by the end of the year.
Sign the petition below to add your voice for peace.
The UN Security Council unanimously adopting resolution 2532 (2020) on Wednesday July 1, the 15-member peace and security body demanded "a general and immediate cessation of hostilities in all situations, on its agenda." Through the resolution, the Council called upon all parties to armed conflicts to immediately engage in a "durable humanitarian pause" of at least 90 days, to enable the safe, unhindered and sustained delivery of lifesaving aid. 180 UN Member States have now endorsed the UN's call to silence the guns, and stand united against the global threat of the COVID-19 pandemic. Pope Francis added his voice to the UN call for a ceasefire amid the pandemic.
On October 20, 2020 UN-mediated ceasefire efforts has yielded a potentially historic ceasefire accord between the warring parties in Libya, but any lasting end to years of chaos and bloodshed will require wider agreement among myriad armed groups and the outside powers that support them. As noted in the State Department Press release on the agreement and the need for the continuation of UN precipitation in the peace process:
We welcome the announcement of Libyans signing a nationwide, immediate ceasefire agreement at the UN-facilitated 5+5 Joint Military Commission talks in Geneva on October 23.  We commend Libyan leadership on all sides for taking this courageous step.  We also appreciate the vital role the UN Acting Special Representative of the Secretary General Stephanie Williams played in facilitating the talks.  It is crucial for this progress to continue and for all parties to the conflict to support this success.  As the agreement states, all foreign fighters must leave the country within 90 days and allow Libyans to decide their own future.  We look forward to the outcomes of the UN-facilitated Libyan Political Dialogue Forum and to supporting the transfer of power to a new executive authority to prepare for national elections.  We also look forward to the UN Secretary General's swift appointment of a new Special Envoy for Libya to ensure progress on the UN's efforts to support Libyan national reconciliation.  We call on all Libyans to continue to build on the positive momentum of the ceasefire agreement, and on all external actors to support this process.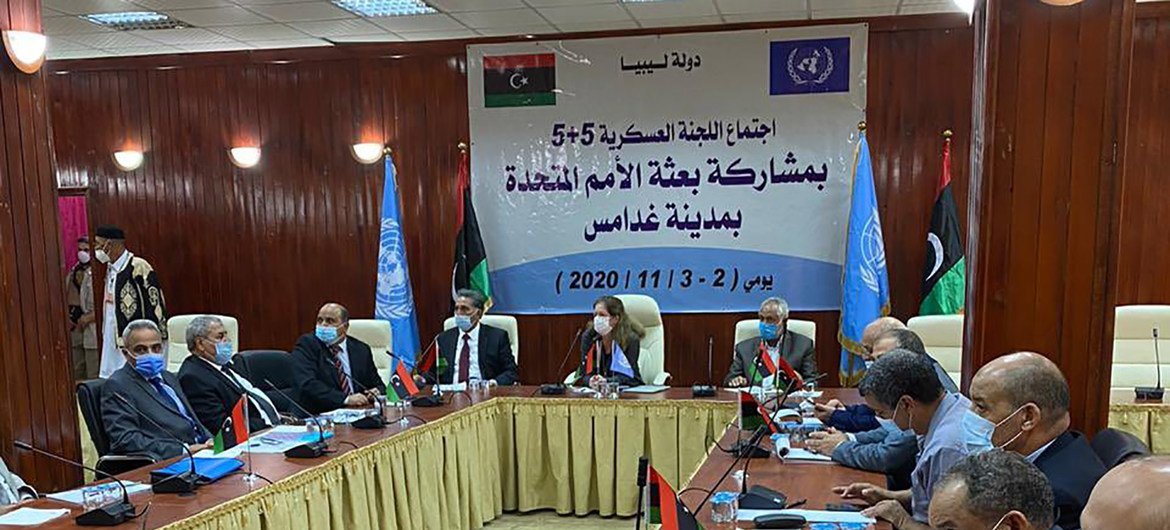 Stephanie Williams, the Acting Special Representative of the UN Secretary-General for Libya, participates in the Joint Military Committee (5 + 5) in Ghadames, Libya.
The COVID-19 crisis has open a window and offers opportunity to build on the positive momentum of the ceasefire agreement and  correct the mistake made by the Obama administration, with NATO's help, of bombing Libya into rubble than walking away to leave them to years of civil war.  Don't make the same mistake and walk away from Afghanistan. Now is the time to help, with UN members to get Libya and Afghanistan on their feet and on the path to democracy and sustainability. Build on the Iran deal and with their help bring peace to Yemen. Joe don't waste this opportunity to bring peace and reconciliation to the Middle East.
 A global ceasefire will help rebuild America as well. The money saved on military expenditures can be spent on fighting COVID-19. It will allow access to capital to save small businesses and employees and put money into the economy. It will open up global markets that many businesses need in order to sell their products and make a profit.
The clock is ticking and there is no time to waste the COVID-19 and climate change storm is coming. That means the investments to rebuild America have to be immediate and sustainable to save lives and restart the economy.
  The UN Secretary General recognizes "the need to do everything possible to find the peace and unity our world so desperately needs to battle COVID-19. We must mobilize every ounce of energy to defeat it" and "I call on all those that can make a difference to make a difference: to urge and pressure combatants around the world to put down their arms." Joe make a difference, if COVID-19 is going to be your administration's number one priority join 180 countries and the millions around the world calling for a ceasefire agreement. American leadership is critical to the worldwide fight to eliminate COVID-19, rebuilding the global economy and bringing healing, peace and reconciliation to citizens at home and abroad. Joe raise your voice for peace.
CODEPINK protests outside the Treasury Department. Credit: Medea Benjamin
We at Codepink have been raising our voices for peace, saying no to war now for 18 years and gladly add our voices to the millions around the earth that are asking for a ceasefire. Codepink has been advocating and working to get the US to divest from the war economy and bring those war dollars home to invest in a sustainable peace economy since the US  build up for the 2nd Iraq war in 2002. Now is the time to end endless war. With COVID-19 and climate change the need for urgent action is now. If we want to save ourselves and the planet we have to chose peace over war, cooperation over confrontation, democracy over nationalism,  sustainability over exploitation and love over hate. Once you choose helping others, to love your neighbor as yourself you will feel better about yourself and the future for your family and other families around a green earth. So sign the petition add your voice for peace and join with Codepink and millions of other as we work together for peace and sustainability in this time of crisis. 
Sign the online petition in support of the Secretary-General's cease-fire appeal!
Joe add America as one the signatories. In alphabetical order, here is the full list of signatories endorsing the UN chief's global ceasefire appeal, so far:
Afghanistan, Albania, Algeria, Andorra, Angola, Antigua and Barbuda, Argentina, Armenia, Australia, Austria, Bahamas, Bahrain, Bangladesh, Barbados, Belarus, Belgium, Belize, Benin, Bhutan, Bolivia, Bosnia and Herzegovina, Botswana, Brazil, Brunei Darussalam, Bulgaria, Burkina Faso, Burundi, Cabo Verde, Cambodia, Canada, Central African Republic, Chile, China, Colombia, Comoros, Costa Rica, Côte D'ivoire, Croatia, Cyprus, Czech Republic, Denmark, Djibouti, Dominica, Dominican Republic, Ecuador, Egypt, El Salvador, Equatorial Guinea, Eritrea, Estonia, Eswatini, Ethiopia, Fiji, Finland, France, Gambia, Georgia, Germany, Ghana, Greece, Grenada, Guatemala, Guinea, Guyana, Haiti, Honduras, Hungary, Iceland, Indonesia, Iraq, Ireland, Italy, Jamaica, Japan, Jordan, Kazakhstan, Kenya, Korea, Laos, Latvia, Lebanon, Lesotho, Liberia, Libya, Liechtenstein, Lithuania, Luxembourg, Madagascar, Malawi, Malaysia, Maldives, Mali, Malta, Marshall Islands, Macedonia, Mauritania, Mauritius, Mexico, Micronesia, Moldova, Monaco, Mongolia, Montenegro, Morocco, Mozambique, Namibia, Nepal, Netherlands, New Zealand, Niger, Nigeria, Norway, Oman, Palau, Palestine, Panama, Paraguay, Peru, Philippines, Poland, Portugal, Qatar, Romania, Rwanda, Saint Kitts and Nevis, Saint Lucia, Saint Vincent and the Grenadines, Samoa, San Marino, Sao Tome and Principe, Saudi Arabia, Senegal, Serbia, Seychelles, Sierra Leone, Singapore, Slovakia, Slovenia, South Africa, South Sudan, Spain, Sri Lanka, Sudan, Suriname, Sweden, Switzerland, Tajikistan, Tanzania, Thailand, Timor-Leste, Togo, Tonga, Trinidad and Tobago, Tunisia, Turkey, Turkmenistan, Tuvalu, Uganda, Ukraine, United Arab Emirates, United Kingdom, Uruguay, Uzbekistan, Vanuatu, Venezuela, Viet Nam, Yemen, Zambia, Zimbabwe and the European Union.
References:
Ceasefire in Libya
PRESS STATEMENT