Protest Matagorda Bay Tx to Stop Dredging Permit for Oil Export

Shrimper begins hunger strike to pressure Biden Administration to withdraw Matagorda Bay, TX dredging permit for oil exports
Point Comfort, April 7 — Today, 4th-generation shrimper, activist, and author Diane Wilson began a hunger strike at the waterfront of Lavaca Bay to demand that the Biden Administration stop the dredging of the mercury-contaminated Matagorda Ship Channel permitted by the US Army Corps of Engineers. The dredging, which has not begun, would allow for the construction and operation of a new crude oil export terminal proposed by oil company Max Midstream.
In the wake of her $50M Clean Water Act settlement with Formosa Plastics – the largest such settlement in US history of a private citizen's lawsuit against an industrial polluter – $20M was given to establish a sustainable fishery cooperative and help local fishermen revitalize the fisheries of Lavaca and Matagorda  Bay.  Should the dredging of the Matagorda Ship Channel proceed, Diane fears and the Army Corps acknowledges that mercury contamination from the Alcoa Superfund site could be unearthed and devastate fisheries that local communities are working to restore and revitalize.
The dredging project would be a joint effort of the Port of Calhoun, oil company Max Midstream, and the US Army Corps of Engineers, aiming to turn the Port into an "oil exportation hub" for crude fracked from the Permian Basin.
"I risked my life to protect Lavaca Bay from Formosa plastic pollution, and I'll risk it again to protect it from the U.S. Army Corps of Engineers, mercury pollution,  and oil exports" — Diane Wilson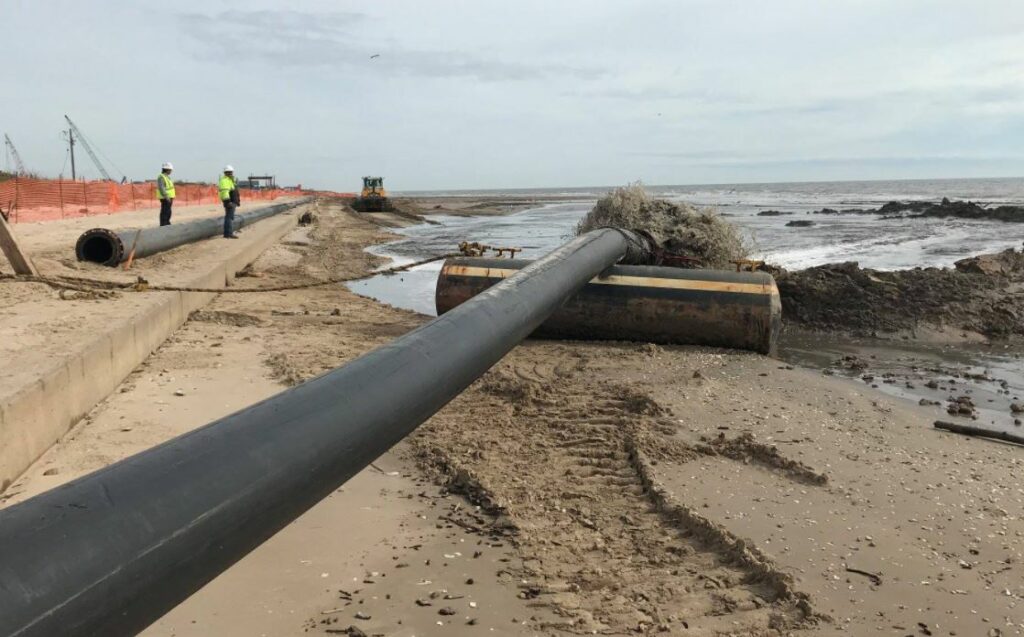 Callan Marine photo
Since Congress lifted the ban on crude exports in 2015, oil export volumes have skyrocketed – and with it, the massive expansion of fracking in the Permian Basin. As Enterprise CEO Jim Teague told Dallas Morning News in 2019, "without the crude oil export ban repeal, the United States would not be producing half of the oil it is today because it could not be exported." The Max Midstream project is only one of at least 8 additional new and expanded proposed crude oil export facilities along the Gulf Coast, each of which carries unique impacts and risks to public health, endangered species, coastal ecology, and the climate.
Diane is among the many voices including US Senators Chuck Schumer and Jeff Merkeley urging the Biden Administration to declare a National Climate Emergency, which would unlock presidential powers to reinstate the crude export ban and halt the harmful expansion of oil infrastructure.
Diane Wilson #StopTheDredging #StopOilExports Hunger Strike 
FOR UPDATES:
www.facebook.com/unreasonablewoman 
TikTok: @unreasonablewoman
Campaign timeline: opportunities for solidarity & support
Below is the current schedule of key moments planned throughout Diane's campaign. We will keep this list updated as more opportunities to take action and support her effort are planned. 
April 7th: Hunger Strike begins
What's happening: In the morning on April 7th, Diane will park her truck at a symbolic location on Lavaca Bay and begin her hunger strike. 
Support needs: We will be sharing livestream video and driving viewers to a new Facebook page and TikTok account where daily updates and calls to action will be published throughout the campaign. Please plan on sharing posts on Facebook, Twitter, and TikTok on Wednesday to help us build a strong network of support!
Campaign Facebook page:

like, share, invite! 

Twitter: follow @unreasonablewoman & share posts!

TikTok: follow @unreasonablewoman & share posts!
April 17th: #FossilFreeGulf Coast Week of Action begins
What's happening: Communities along the US Gulf Coast are organizing a week of action to call attention to urgent struggles against the oil, gas, and petrochemical industry and demand that the Biden Administration take decisive action to protect communities and the climate.
Support needs: See the Gulf Coast Week of Action toolkit for a full schedule of planned actions and more details on how to get involved and support. 
April 19th: Stop Fossil Fuel Exports national campaign launch
What's happening: A new national campaign uniting efforts to fight the export of fossil fuels is launching as part of the Gulf Coast Week of Action with a sign-on letter to President Biden, a new website, and a press event that will feature Diane's story. 
Support needs: 
April 21st: 2 weeks in — solidarity strike with Diane
What's happening: On the two-week mark of Diane's hunger strike, we are asking allies far and wide to hunger strike in solidarity with Diane for one day. 
Support needs:
Sign up to strike with Diane on April 21st and share the call to action!

Take a photo of yourself and post about why you are striking with Diane and use the hashtags #StopTheDredging and #StopOilExports
TBD: Kayak Flotilla on Lavaca Bay
Direct support information & needs
***Click here to sign up to support Diane's hunger strike in person in Lavaca Bay and/or virtually***
We are asking individuals who are able and willing to travel to Point Comfort during Diane's hunger strike campaign to show up and support her effort in person. Please fill out the above form and we will be in touch to help you arrange logistics.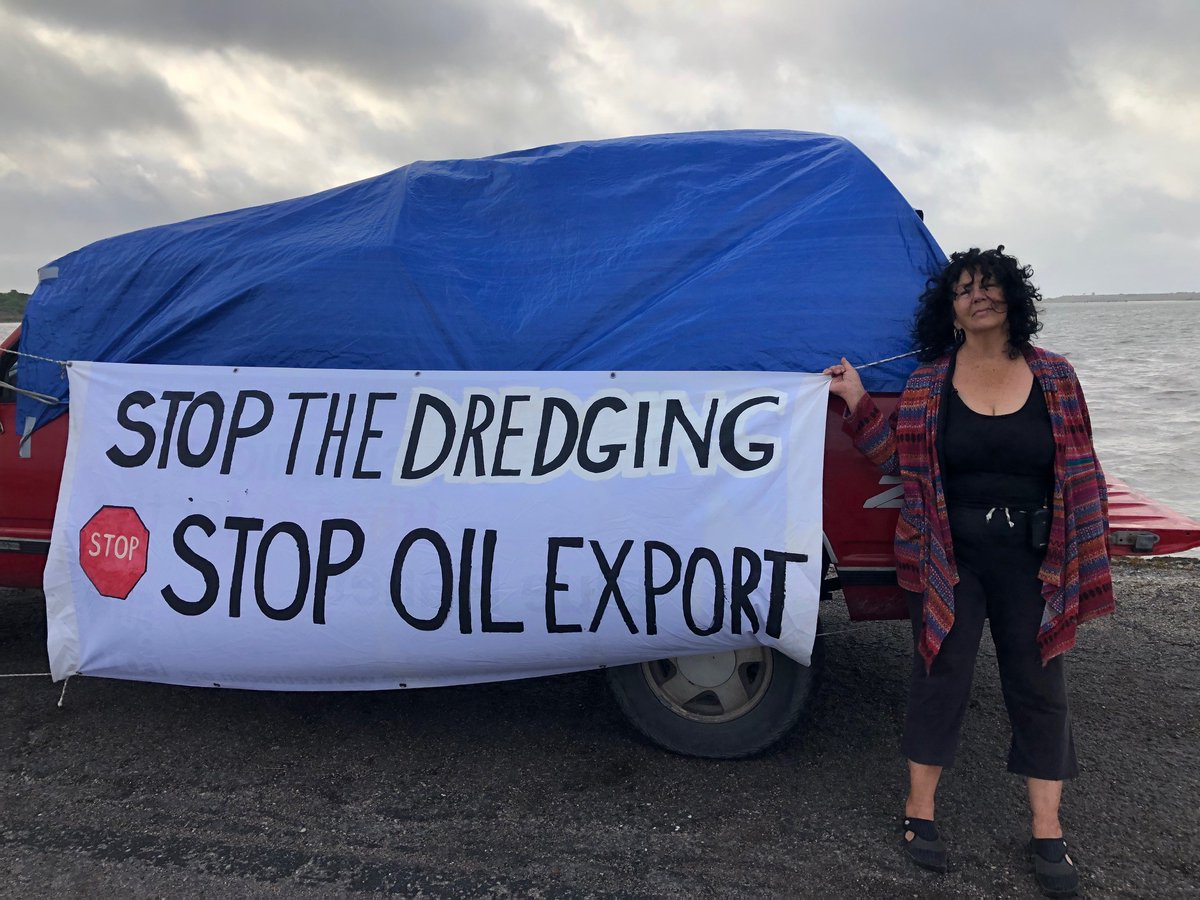 ---
For More Information
On the Hunger Strike:
On the Dredging & Max Midstream exports project:
On Diane's historic Clean Water Act victory:
On oil exports: